eBay Opens Store in NYC that Accepts Pre-Owned Luxury as Closet Currency
The eBay Luxury Exchange,  opens during Jewelry Week in the heart of New York's iconic Diamond District, eBay capitalizes on the skyrocketing value of authenticated luxury items by letting shoppers exchange jewelry, handbags and watches from top brands like Gucci, Rolex, and Van Cleef & Arpels.
"It's never been easier for luxury enthusiasts to refine their collections in a trusted environment, and we wanted to create an IRL experience that reflects what's happening on eBay every day," said Tirath Kamdar, GM of Luxury at eBay. "The Luxury Exchange gives shoppers an opportunity to appraise and sell their valuable goods, and add something new to their personal collections – just in time for the holiday season."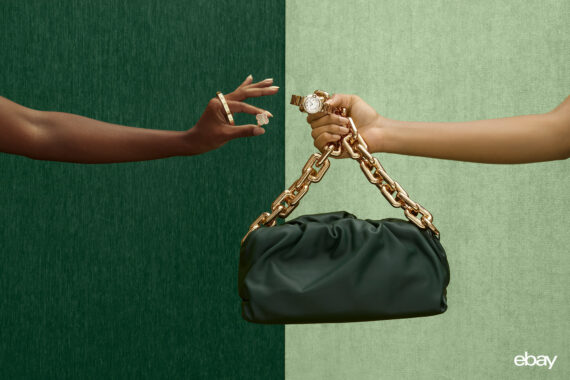 How it Works
Shoppers have their luxury items appraised and assigned a value with which they can shop the store's inventory of designer watches, handbags, and jewelry.
Once shoppers find an item(s) within their "currency," they can make the exchange and walk out of the store with their new luxury goods.
If nothing in the store catches a shopper's eye, guests can visit the on-site photo studio and opt to list on eBay themselves instead of exchanging.
The Luxury Exchange comes on the heels of the expansion of Authenticity Guarantee to jewelry, a move that significantly augments eBay's luxury offering. eBay launched Authenticity Guarantee in 2020, and the program now includes sneakers, watches, handbags, trading cards and now, fine jewelry. As a result, more and more shoppers are turning to eBay to buy and sell their collections. This behavior is reflected in the depth and quality of inventory available on the marketplace.
Shop a curated selection of authentic, covetable watches, handbags and jewelry from Bottega Veneta, Cartier, Rolex and more from trusted eBay seller myGemma.
Open 11am-6pm November 16th & 17th
22 West 47th Street
New York, NY 10036
Learn more about eBay Luxury Exchange at https://www.ebayinc.com/luxury-exchange/
Jeanel Alvarado - Ohemeng
I have 15 years of experience in the retail industry including expertise in marketing, operations, merchandising, buying, shopping and technology. I am a speaker, consultant and former senior managing director of The School of Retailing, University of Alberta. My education includes a Bachelor of Commerce Degree from The University of Alberta in Marketing, Certificate in Real Estate and a Diploma in Fashion Merchandising and Buying from LasSalle College, a Canadian private school founded in 1959 by fashion designer Jean-Paul Morin.